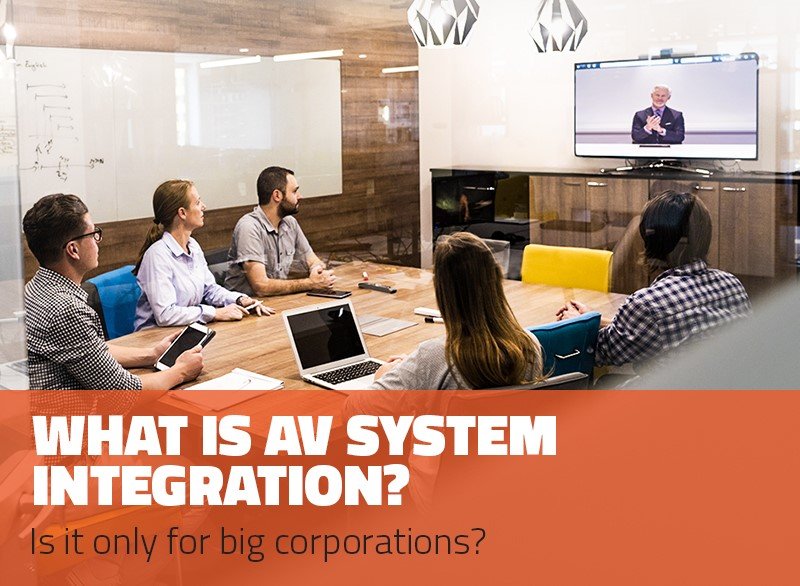 In today's world, it seems impossible to imagine our lives without audio video system integration. From schools to corporate boardrooms, almost all collaboration spaces are incomplete without it. Especially since the onset of the COVID-19 pandemic, with the schools relying on online classes and companies switching to hybrid workplace models, the need for AV Integration is increased drastically.
As it is an integral part of our modern lives, everyone has heard the term time and again but not all know enough these about it. As a result, a lot of questions about it are floating around. One such question and the most common one asked is if AV system integration is only meant for the big corporations.
To answer that, let's first understand the term in detail.
Audio visual:
Audio means sound and visual means images, either static or moving.
Audio visual systems:
Audio visual systems are devices that record, reproduce, transmit or play audio and visuals. Examples include speakers, microphones, projectors, displays, and webcams.
Audio visual system integration:
Audio visual system integration is a combination of such devices with video conferencing software which together form a unified whole for smooth communication.
Now, that we are clear about the definition, let's see how it benefits us.
AV Integration is important to bring everything and everyone together.
Blending different audio visual technologies and software, AV system integration allows organisations to have seamless communication with their team, clients, vendors and other stakeholders, which is as good as the in-person meetings or sometimes even better. In short, it ensures smooth communication and eliminates all the obstacles in the way of collaborations.
Let's see how!
With AV system integration, you can –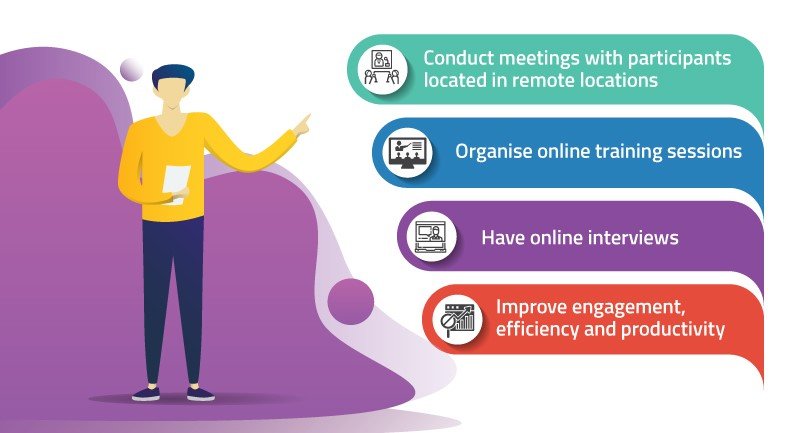 1. Conduct meetings with participants located in remote locations
With the improvement in the Covid19 situation, many companies are now switching to a hybrid workplace where some or all employees choose where and when they work, alternating between working from home and working from the office. And with that, the need to have an AV system integration in place has increased. To ensure smooth collaboration between employees in the office and at home, it is important to have an AV system in your office that is well integrated.
Not just that, AV system integration also helps a great deal when clients or other stakeholders are located far away, as meeting them in person only adds to the cost to the company in terms of time and money. Having an online collaboration that feels like a one-on-one meeting is the best alternative in such cases.
So, be it with your colleague who is working remotely or your client who wants to have a word with you from his far-off located office, AV system integration is sure to cater to all your communication needs.
2. Organise online training sessions
While in-person training has its own benefits it also comes with a lot of hassles, costs, and disadvantages.
For instance, arranging transport for the external trainer or renting out a large space for the audience is not just an extra task for your training team but also adds to the company's cost. This is where AV system integration can help. It not only eliminates troubles and saves cost but also lets participants attend the training from their comfort spaces, be it home or their office cubicles.
3. Have online interviews
Recruiters and interviewers always prefer in-person interviews for observing candidates' body language and facial expressions while judging the voice tonality. But a lot of times, meeting in person is not viable. For instance, if a candidate is located in a different state, it does not make sense to call him all the way to your state for the preliminary rounds of the interviews.
So what do you do? You either ask for a phone interview and compromise on observing the body language, expressions and voice tonality that may not be clear over the phone or you have a video interview facilitated by AV system integration. We are sure you will choose the latter. With the best quality video and sound, enabled by AV system integration, you can have flawless interviews just how you wish to have them.
4. Improve engagement, efficiency and productivity
The communications and collaborations that are boring, one-sided, or that lack clarity can bring out the worst in the participants instead of their best. The best solution to this problem is AV system integration,
There is no end to how creative you can get while communicating using AV system integration tools. By allowing the use of documents, images, audios and videos, in a real-time cloud-based environment, AV system integration solutions help you to make your meetings and collaborations interesting and interactive.
And, interesting and interactive communications always encourage participants to give their best and allow them to be as efficient as possible making the meetings productive.
Size does not matter
By now it must be clear to you that AV system integration benefits all organisations that need to connect, collaborate, share information and hold meetings with their stakeholders, regardless of the size of their organization. It does not matter whether an organization has 15 or 150 employees, an AV Integration system can help all.
However, depending on the size and complexity, the integration solution always needs to be customised and designed to best suit the stakeholders' needs. It needs to match the vision of the organisation while fitting well within the available space and financial budget. Mapping out the entire system, choosing the right technologies, listing out all the devices required, are some of the many steps that lead to a good customised design. And, for all this seasoned professionals are a must!
For a customised AV system integration solution by experts