With the Covid situation getting under control, the days of working from home seem to slowly come to an end at many places. While some organisations are switching back to working from office, many claim that a mix of working from home and the office is more productive. We can't agree more with them. A good hybrid workplace strategy can do wonders for any organisation!
There are three aspects to an effective hybrid workplace strategy – office, home, and platform. The best strategy is to balance and combine these three parts to empower your organization to work even better than before. Let's see how you can do that.
Part 1: The office
Today's offices are far different from what they used to be before Covid19. Rather than hosting hundreds of people every day, they now welcome only a few dozens of them. But the core function of the office remains the same – allowing people to collaborate, offering services to clients, and accomplishing daily tasks and long-term goals. So, when you devise your hybrid workplace strategy, the first thing you should do is define the role of the office.
1. Decide on how to utilise the spaces
Assign dedicated workspaces to individuals. Decide for how long which space will be used by whom. Make a list of all the spaces that are not used regularly. Find ways to covert them when not used for their original purposes. For instance, your open area that is used as a meeting room can be given on rent for events to others.
2. Upgrade the offices with the best devices
Since the people working from the office will have to work with those at home, it is important to have fully-equipped offices with the latest collaboration technologies.
3. Create a positive environment
Create work modules that ensure maximum engagement in collaborations and strengthen employee bonds. Involve the employees in making strategies and take constant feedback to help create a better working space for them as per their needs.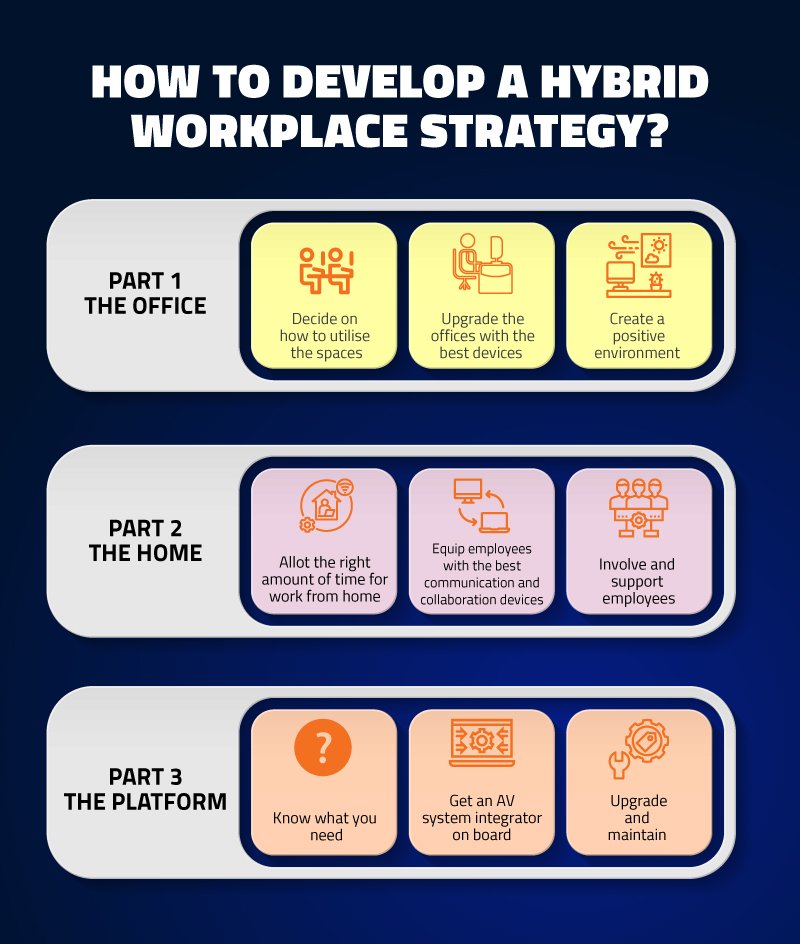 Part 2: The home
For over 90% of employees, the home is the new office, which is why the homes need to be well equipped. Even though working from the comfort of home has its advantages for the employees, it also has many drawbacks. An increase in screen time has an adverse effect not just on the levels of concentration but also on the mental health of the employees. As an organization, it is important that you find ways to minimize these disadvantages. Here's what you can do to ensure a good work-from-home model.
1. Allot the right amount of time for work from home
While working from home seems easy and comfortable, it comes with a lot of issues, such as increased eye strain due to long screen time and loneliness due to the physical absence of colleagues. Hence it is necessary to not allot long working hours to work from home.
2. Equip employees with the best communication and collaboration devices
One of the major issues of working from home is weak communication. Lack of access to the right devices can lead to hampered communication and productivity. Take a survey and find out if any of your employees do not have access to any of the devices required and provide them with what they need.
3. Involve and support employees
Give them tasks and projects that require collaborations so they can bond with the employees in the office on professional and personal levels. Create opportunities to involve them in processes and ask for their feedback and suggestions on regular basis. Also, give them complete support as and when needed, as if they were working from the office.
Part 3: The Platform
The platform is what brings those working from home and the ones working from the office together. The right platform brings individuals together as a team and facilitates day-to-day tasks.
No matter which devices your offices or employees are equipped with, their communication will never be smooth if you do not invest in the right platform. Because at the end of the day, it is the platform that
ensures that they connect, meet, collaborate and share content seamlessly.
Here's how to ensure that your organization has the best platform.
1. Know what you need
Do your research well. Ask your employees about the issues they face. List down all the requirements. Find out what other companies in your industry are doing. See what you lack.
2. Get an AV system integrator on board
Once you know what you need, get an AV system integrator on board.
Out of many options of AV system integrators available, choose the best one on the basis of their experience, your requirement and your budget. Talk to the AV integrators that you finalise, give them your exact requirements and help them come up with a customised design for your organisation.
3. Upgrade and maintain
It's not enough to only have the right devices and platforms in place. It is also important to maintain and upgrade them. So, make sure that they are maintained well and upgraded on time. And for that, choose a responsive AV system integrator who offers good post-installation support.
With the right balance of these three aspects, your hybrid workplace strategy is sure to work!