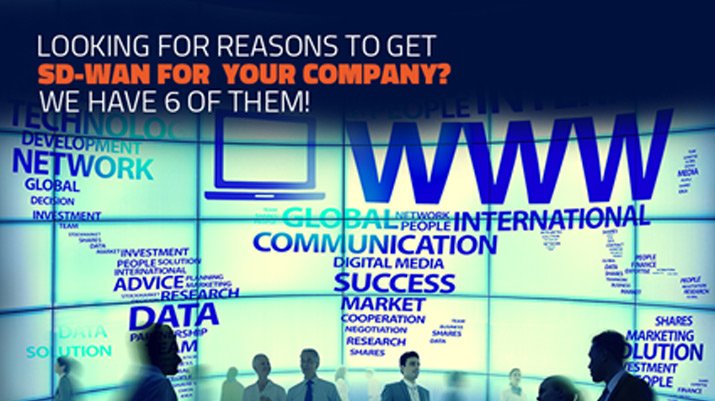 The pandemic has changed the corporate landscape forever. Where IT companies have been able to maintain the momentum, they have also been struggling with data breaches and threats, constantly. This is a challenge faced by almost every company that has adopted a hybrid workplace strategy. As employees connect with each other from remote locations, a reliable and secure connectivity model becomes a top priority. The answer to this problem lies in two most important aspects of business – a) hire skilled employees able enough to tackle the problems, and b) implement a software-defined WAN (SD-WAN) that can stop a threat even before it shows up.
In the era of hybrid workplace, it takes more than just tools and devices to keep daily operations going without complications. When services are cloud-based, locations are remote, applications and platforms are different, it really becomes difficult to make things flexible and scalable while securing every bit of data and information. That's where SD-WAN comes into the picture and makes things easier. SD-WAN is a complete solution for all kinds of companies who have adopted the hybrid workplace model.
Because it integrates software-defined networking with fixed and mobile transport networks and gives immediate visibility into the network along with the ability to control the traffic. It fits right within your budget, offers a much-better solution than traditional networking and empowers your company to respond to external threats quickly.
Here are 6 security reasons that make SD-WAN a must for you.
Scalable and centralised security
Which company does not want control over its security? The answer is every one of them. The good thing about SD-WAN is that it can set security policies for the entire network and can give you enhanced control across departments and processes. With centralised control comes the ability to filter and block malicious traffic without even affecting other network operations. SD-WAN, upon encountering any suspicious activity, will automatically redirect it to the admin who can then easily take care of it. SD-WAN is completely adaptable to your company's needs and you can create and deploy new security policies according to your business growth and needs.
No more VPN concerns
Does your company rely on the internet? The answer is 'yes.' That's where SD-WAN comes in handy – when the internet is used as a method of transport. SD-WAN removes the need of building a VPN or DMVPN to secure the transfer of traffic. With SD-WAN in place, companies don't have to worry about building VPN firewalls. As soon as it is plugged in, SD-WAN takes care of everything seamlessly with minimum effort by building IPsec tunnels between all locations. So rather than creating a VPN, the controller does it automatically when you give the device an IP address or enable DHCP. That' not all that SD-WAN does. It also builds a full mesh to talk to every one of the sites without having the need to go back to the data center. Making site-to-site traffic secure and seamless.
Cloud connectivity
Today, almost everything is happening on the cloud. Why not security? SD-WAN makes it easier to manage security through cloud connectivity. Especially when employees are sitting in remote locations, cloud connectivity plays a major role in day-to-day operations. SD-WAN's direct and seamless connectivity optimises the cloud experience and delivers high levels of security for your company. Moreover, through authorized access, it prevents the loss of data and keeps unwanted threats and intrusions at bay.
Prioritise or reduce traffic
As a company you receive all kinds of traffic. How do you know which one to prioritise or eliminate? SD-WAN does exactly that for you. It prioritise traffic from your location, moves voice/video traffic over low-latency, high bandwidth links (like MPLS) and uses local internet for less time critical traffic. Depending upon needs, your company can use a combination of networks like mobile networks, private circuits or any other internet connection. SD-WAN ensures that the connection used is appropriate and secure for data transfer. It also makes security easier to manage by reducing the amount of traffic going through security parameters because all site-to-site traffic is encrypted.
Secure zero-touch provisioning
Want to add another remote location to your hybrid workspace system? Do it with zero-touch provisioning within minutes with SD- WAN. It empowers you to adapt automatically to any network changes and manage segmentation policies easily. You can also define policies for which applications a workspace can use, like the CRM system, cloud-based applications like Office 365 or real-time traffic like Voice over IP (VoIP). Zero-touch provision also minimises human error by pushing a policy automatically to all SD-WAN devices. The thing to keep in mind here is that zero-touch provisioning also requires comprehensive security measures. So, always get an SD-WAN that provides:
A chain of trust via a controller to authenticate branch devices
Fool proof encryption creating a secure channel for chain of trust enforcement
Centralised approval and revocation of devices
Better protection through two-factor authentication
Prevention of data through traffic control
Strong traffic encryption
Almost every company today, no matter how big or small, has adopted the hybrid workplace approach. Which means more locations to manage with equal measures of reliability and security. Making things easier for you, SD-WAN protects traffic between locations by connecting them together through a secure tunnel that's strongly encrypted. Which means that you will be able to deploy virtual firewalls to deal with malicious threats or malware in real-time. After the threats have been neutralised you can simply turn them off. It also gives you the power to create virtual firewalls to restrict access to websites for employees working from remote locations and guests.
SD-WAN is a highly advanced technological tool that can help your company and its employees stay connected while eliminating all security threats. It is what you need in today's digital-first era of work where many remote locations come together to make a company. SD-WAN solution for your company now.