So you have decided to set up a meeting or conference room for your organization. Good call! Especially in today's hybrid workspace scenario where meeting rooms have become more important than before. Meeting rooms are practically the space where the real brainstorming, discussions and innovations happen, both internal and external and physical and remote. Since the origin of the hybrid workspace theory around the pandemic, meeting rooms have taken the centre stage in our day-to-day work routines. Meeting rooms empower organizations, no matter how big or small, to keep its members connected with each other through conference calls or video calls. While setting up your meeting room, you must consider the fact that every member of your team should be able to join in with utmost ease.
Whatever the nature of a business is, a meeting room is a necessity now. It also needs to bring out positive vibes so people who are attending the meetings can be more productive and interact with each other better and openly. The more dynamic and flexible a meeting room is, the better results it will yield for your organization. After all, the objective of a meeting room is to facilitate collaboration by creating an open and inviting environment where every member of the team feels comfortable and at ease.
MEETING ROOM ESSENTIALS
After deciding upon the idea of having a meeting room, comes the next stage – what are the essentials of a perfect meeting room? There are two ways to look at meeting room essentials – a) as an expense, and b) as an investment. Considering the current scenario and the fact that a hybrid workplace is not going anywhere for many years from today, it is important that a meeting room should be looked at as a long-term investment. Video conferencing is the norm of the day. Hybrid workspace allows members to attend meetings from anywhere. It saves on precious time and commute. Rather than visiting clients once or twice a month, you can meet them over video conferencing as many times as you want. It saves on traveling expenses and decreases overall cost of operations. Considering how significant all these facts are, make sure that your meeting room is the best which brings out the best in everyone. And the right equipment can make it possible with ease.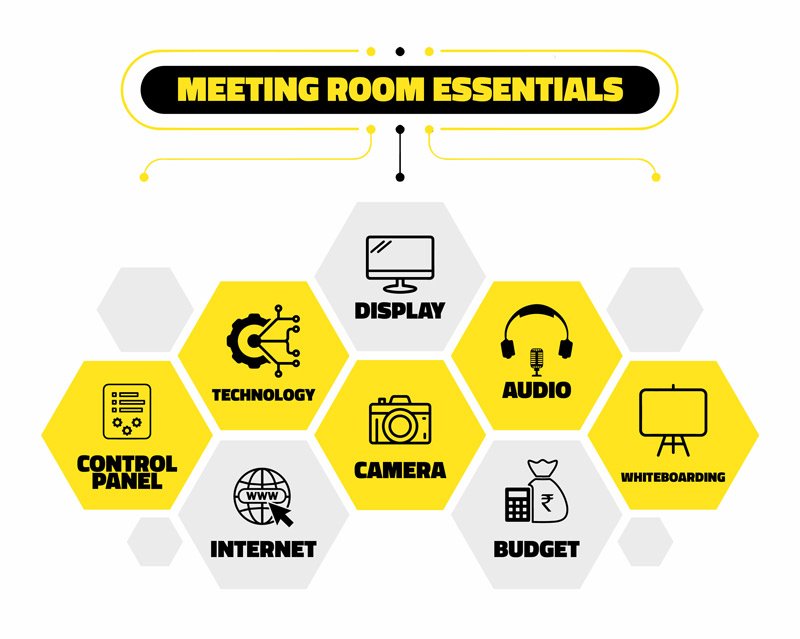 Display
Meeting rooms are all about video calls and conferences. Video display is the first essential item that should be on your list while setting up a meeting room. When choosing a video display consider display size, type of display (LCD, LED or projector) and mounting height.
Technology
After the display, comes the technology part. There are dozens of good quality technologies available for you to choose from. While choosing the technology, consider three basic things – a) business requirements, b) scalability and c) security. The other two important aspects to consider are – a) are you going to use the technology for meetings only, be it small or large, and b) webinars or online classroom/training sessions will also happen. Answering these questions will definitely help you choose the right technology.
Audio
Since many meeting room participants sit in remote areas, audio quality is very important to consider. So choose speakers and microphones wisely. The various types of speakers and microphones available are on-table, sound-bar (usually mounted below the video display) and in-ceiling. The size of the room and number of participants will help you choose better. For example, sound bars are appropriate for smaller rooms while larger rooms require multiple speakers and microphones.
Camera
The idea of a meeting room is to give a life-like experience to its participants. People should feel they are meeting each other in person even if they are sitting hundreds of miles away from one another. That's where the camera plays a vital role which you can choose depending upon the type and size of the room. For small huddle rooms a small camera will do the job for you. But in case of a large conference room you will need a more sophisticated camera. Also, consider the viewing angle before buying one for your meeting room. You can choose a camera with a 180-degree viewing angle or can also go for a 360-degree one.
Control Panel
When half of your team members stay in the actual meeting room and the other half participate from remote locations, how do you make sure that everything goes smooth and seamless? With a control panel! A control panel becomes the most necessary tool when the items of a conference room kit are purchased and assembled separately. Control panel brings convenience to the table and makes hosting meetings easier and hassle-free. It helps to organise meetings, allows email integrations and empowers team members to join meetings with a single click, from anywhere.
Whiteboarding
In meeting rooms, whiteboarding is one of the most useful tools that an organization can ask for. It offers something for every department or person. For example, engineers can use it for displaying flowcharts and component diagrams, marketers can use it for creative brainstorming and product team members can use it for lifecycle road mapping. So, when you plan your meeting room, don't even think of leaving whiteboarding out. Whiteboarding definitely, without a doubt, increases productivity of the team and is ideal for sharing ideas. It also allows to directly annotate on the display and share it with the participants in real-time or after the meeting.
Internet
No matter how small or big your meeting room is, there's one thing it requires and relies upon in equal measure – Internet. A perfect meeting room does not just require HD display, great quality speakers and microphones and comfortable furniture. It also requires an uninterrupted Internet because there are a lot of devices running and communicating with each other simultaneously. No video call or conference can take place with the Internet. Depending upon the number of devices connected or participants involved, choose your Wi-Fi carefully. One that does not lag or ends up freezing the screens. A seamless Internet connection is the first and foremost requirement of an ideal meeting room.
Budget
Last but not the least! Budget, without a doubt, plays the most important role in the creation of a meeting room. A meeting room is a collection of various devices, such as audio, video, etc. The quality of these devices depends solely on an organization's budget. If your budget is higher, you will enjoy HD displays, and speakers or microphones. But if your budget is low, you will be making a compromise on quality. So, before selecting these devices, always compare them against your budget and choose the ones that don't burn a hole in your pocket.
TYPES OF MEETING ROOM STYLES
Just like you can have many devices to set up a meeting room, you also get many designs and types. Here are the five most common types of meeting room set ups.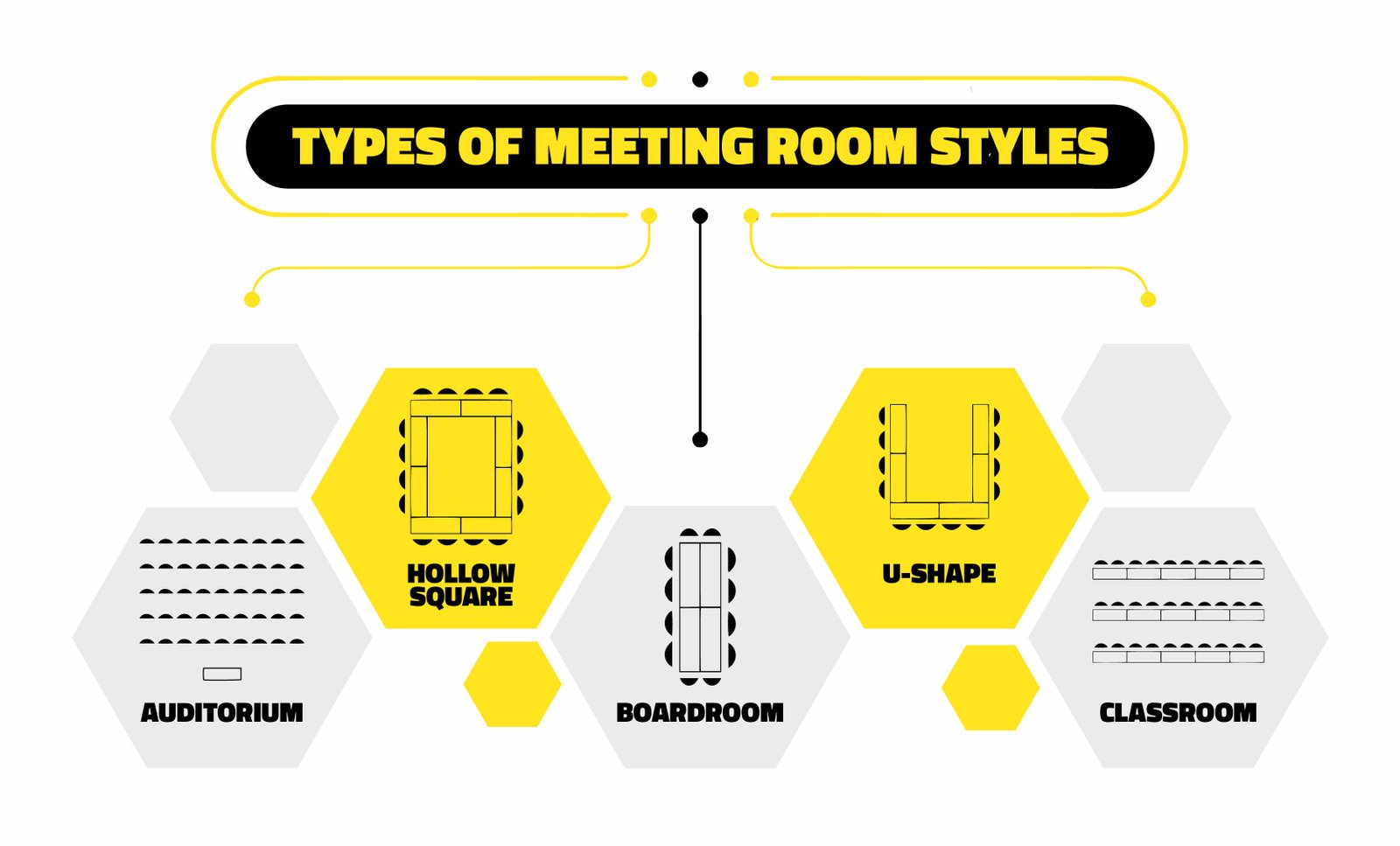 Boardroom
Consisting of an oval or rectangular table, the boardroom meeting room is very simple to set up. The table is placed at the center with chairs around it. It is one of the most common types of meeting rooms across organizations. The boardroom style can usually accommodate from 12 to 25 participants.
Hollow Square
The second most common type of meeting room, the hollow square, also known as 'Closed U', consists of four tables in a rectangle or square shape placed adjacent to each other. It has an empty space in the middle, allowing a person to use the space and navigate between the tables. This type of meeting room is ideal for up to 20 participants.
U-shape
Like its name, in the U-shape meeting room a series of rectangular tables are placed end-to-end to form a U shape. On the outer sides of the tables the chairs are placed. This style is preferred for presentations, training sessions and video conferences. The empty space between the tables makes for easy navigation and one on one interactions.
Auditorium
One of the most classic conference and meeting rooms – the auditorium! Resembling a theatre (this is the style where TED talks happen), the room has a central stage for the speaker or presenter with audience chairs placed in straight or semi-circular rows facing the central stage. This type of setting is best suited for audio-visual presentations and one-way knowledge sharing sessions.
Classroom
This type of meeting room takes us back to the school. The classroom style meeting room has many tables with chairs placed behind them. In the front, ahead of all the tables, the presenter or speaker stands. The space between the rows of tables gives the speaker the ability to navigate and interact better.
SO, WHAT NEXT?
Now that you know how to set up a meeting room, what its components are and how many types of meeting rooms there are, you surely can take the right call. Whether you wish to create a meeting room from ground zero or upgrade an existing one to fulfil bigger requirements, Telecraft e-Solutions can help you with both.
to go to the page where everything will be explained in detail. So all you will need to do is choose your option and let us make the magic happen for you.