If there's one common tool between different businesses and organizations that's empowering them to run operations seamlessly, communicate better and stay connected, that's wireless network. Wireless networks, or Wi-Fi has become essential for every organization, no matter its size or scale of operations. In order to connect employees with each other and the organization, Wi-Fi is a must. In fact, in today's digital age and the new normal, it is Wi-Fi that's making things easier and possible. Be it an IT firm, a university or any other business, they all need a strong Wi-Fi to go about their everyday work smoothly. Building a secure and ideal wireless network is not as difficult as you may think. All it needs is pragmatic thinking and a few technical steps. There are many ways to configure and use Wi-Fi to get the best results. After you have built a Wi-Fi system for your organization, here are the most important things you must undertake to ensure it runs smoothly without encountering any troubles.
Run pre and post-installation site surveys
The first thing an organization must do after putting a Wi-Fi network in place is a test run of pre and post-installation. The survey helps to understand how efficient the Wi-Fi network is, whether it is getting the coverage expected, it is easily getting connected with all the devices and so on. This will help to make any changes needed in the network and make it better. Site surveys also help to indicate the best locations to mount access points (APs) for optimal coverage, through floor plans, evaluating wall attenuation and measuring radio frequency propagation. In the survey, also keep the provision of asking employees about the Wi-Fi network. After all, people who use the network can also give you insights into it. They can always help you pinpoint the problem areas and help troubleshoot.
Keep it up to date
Having a Wi-Fi network in place is not enough. You have to keep it pdated to keep external threats at bay. There can be technical bottlenecks that can arise from within the organization which you need to keep a check on. To get the best out of your Wi-Fi system and ensure that it does not degrade over a period of time, always. upgrade it to the best and latest version available. Active monitoring plays a vital role in ensuring that everything is up to date and running smoothly. Follow good network management practices, do regular scanning of logs and active monitoring of devices and usage. All of this will help you identify any problems before they become big enough to affect performance and productivity.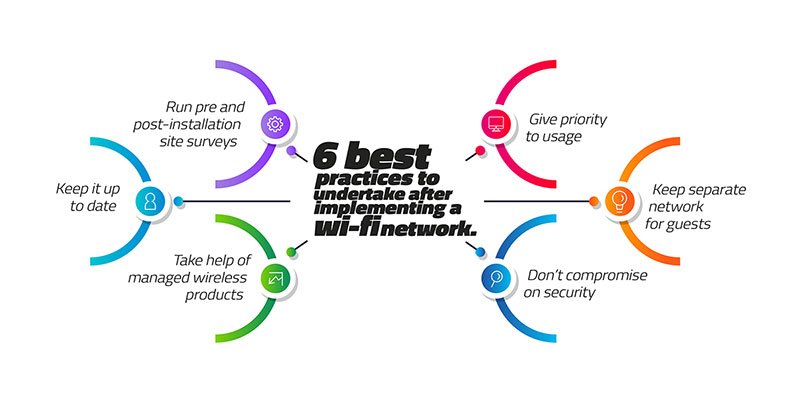 Take help of managed wireless products
Before 2003, it was necessary to manage and configure each wireless access point separately. Lucky for you, almost 20 years later, that is not the case anymore. Thanks to Cisco Systems and a few other networks who developed wireless controller technology. Which eradicated the need of any manual wireless tuning of wireless configuration, like power levels, channel assignments and enabling hot-spare APs. Wireless tuning is a continuous and difficult process that depends on the number of people in a room, usage of the network and, sometimes, the humidity level in a building. Today, the entire wireless network is considered as a single entity and not a bunch of individual APs. Thanks to that, issues like mobility, keeping an IP address and connection alive while users on VoIP call walk between rooms, floors or buildings. Therefore, always choose a wireless management that offers fully managed solutions or upgrade to one. Because true wireless management is more than just capturing AP configurations and, as you know, any deployment with more than eight APs needs a fully managed solution.
Give priority to usage
In an office environment a Wi-Fi network belongs to every employee and device. Every laptop, desktop or mobile connected to it consumes data round the clock as long as the device connected to it is on or within range. This affects the Wi-Fi bandwidth to a great extent. Because even when the Wi-Fi is not actively used, the device automatically connected to it will still consume data. The more employees or devices an organization has, the greater amount of data will get consumed every minute. If your Wi-Fi network comes with a limited monthly capacity, then you must prioritize or control its usage. Which can be done through mission-critical applications, like VoIP (unified communications) or transaction process and by giving priority to business usage over non-business usage. Use management configuration, firewalls or Wi-Fi Multimedia (WMM) to do it.
Keep separate network for guests
Every organization gets outside visitors who use their Wi-Fi network. Regular guest usage can impact bandwidth. That's why it becomes important to plan how guests will connect to the organization's WLAN. If possible, do not allow guests or outsiders onto your private organizational network. In your wireless access points (WAPs), you can easily create a separate network for guests and then give them a passphrase. This will give your private network enhanced security and also keep any intentional or unintentional threats at bay. Many managed services come with the option of captive portals or automated guest provisioning systems which make it easier to offer guests a fully reliable and secure wireless connectivity.
Don't compromise on security
Keeping a Wi-Fi network secure is a tricky business. IT managers taking care of the network always have to be on their toes and constantly check for threats. Almost every Wi-Fi network is prone to hacking or external threats. With the right user credentials, even an outsider can enter a Wi-Fi network and take its advantage. That's why it is important to ensure that Wi-Fi is safe and secure from both internal and external threats. Security is one aspect which should be focused upon at the very beginning of the Wi-Fi network building. Different Wi-Fi networks have different firewalls requirements which can be looked after better at the initial stage itself. An organization can choose between wireless networks with separate firewalls rules and inline intrusion prevention system and other external devices, depending on its security architecture.
Now that you know what to do to keep your Wi-Fi network always up and running, it's time to get down to these points to ensure everything goes on smoothly. If you are looking to upgrade your Wi-Fi network with better product and service quality,
to discover the right options for you. With over 20 years of experience, Telecraft e-Solutions can help you find what you are looking for to keep you stay ahead in the game.