Selecting an AV Integrator: Essential Points to consider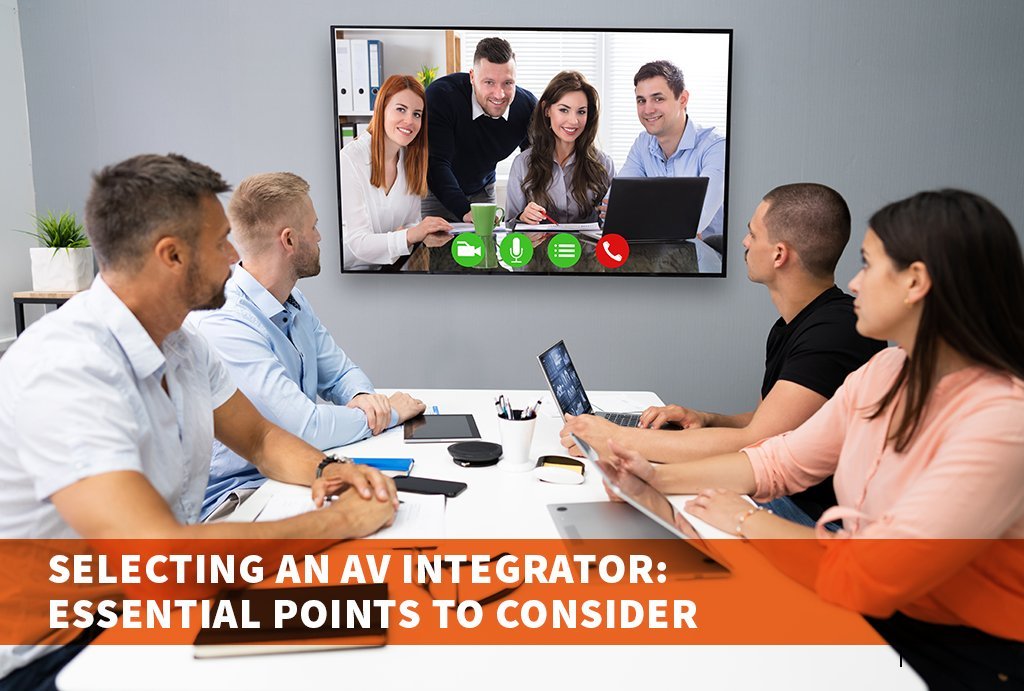 The rapid expansion of the AV industry is quite promising. It has also increased the number of factors to be considered while choosing the right AV integrator for a company.

Quality AV integrators take a consultative approach to any project. Organizations need Audio-Visual integration partners who understand that AV integration is more than technology and equipment and is rather about creating a design that serves as a long-term solution that helps the organization meets its needs. To help with the process, we've compiled some of the key points to be taken care of while making the right choice:
1) Organizational repute -
In the pursuit of a good AV integrator, you also need to assess their relationship with vendors and suppliers. Gathering insights on how they get the work done in the industry will give an idea of their general goodwill as an integrator.
2) Dependability -
The most desirable trait in finding the right AV integrator is the level of trust they have been able to instill in the minds of their clients. The more the experience of the integrator, the better is their performance. Also, they should have a strong financial backing to prove their worth as a seasoned integrator. They should hold significant reference among the echelons of the tech industry.
3) Exceptional product range -
An integration partner should possess a portfolio of world-class AV technology products, next-gen interactive touch solutions, the latest in enterprise collaboration and communication solutions, and reliable digital signage solutions to meet the array of enterprise needs.
4) Scaling the skill base of staff -
A prospective AV Integrator should have the necessary expertise and skills in order to carry out the integration process in a seamless manner. Good integrators invest in keeping their staff certified to work on the latest products from leading players. The technical skill set - IT skills as well as electrical, sound and electronic engineering skills are a must for a great operational experience.
5) Exemplary understanding of business goals -
It is imperative for companies to ensure that the AV integrator you are seeking has clarity on what needs to be done and forges ahead with an optimal solution to address your business requirements and core values.
6) Availability of technical support -
A good AV integrator should leave you feeling confident about handing over a crucial aspect of your business to them at all times. The technical team should be readily available whenever needed and should promptly answer any queries relating to the project. It should be provided remote and onsite.
7) Consistent communication -
An integrator should be also be evaluated on the grounds of adopting a proactive engagement approach with its clients. It should have a robust system of information exchange through follow-ups, seeking and providing constant feedback thereby maintaining a common ground. It leads to better comprehension of the whole process leaving no room for any ambiguity and fostering a sense of dedicated involvement.
8) Preventive maintenance -
The right AV integrator processes warranties and ensures that all hardware is shipped & returned promptly. In order to make a mark as a specialized integrator, it should also be able to do regular quality checks of assets. Furthermore, a maintenance agreement becomes a value addition if it comes with additional training of new hires and existing employees to upgrade their know-how on latest trends in technology.
Why us?
Ever since its establishment in 2002, our company, Telecraft eSolutions Pvt. Ltd. has been transforming the industry of AV system integration and networking with innovative solutions. Partnering and working closely with some of the biggest names in the IT industry, we have proven ourselves in diverse verticals including FMCG, hospitality, entertainment, and infrastructure. With Cisco's partnership, Webex offers integrated plans on a single bill. Now available in the US and rolling out globally, these plans offer several benefits for the best virtual collaboration experiences.