8 Reasons to Choose Cisco Meraki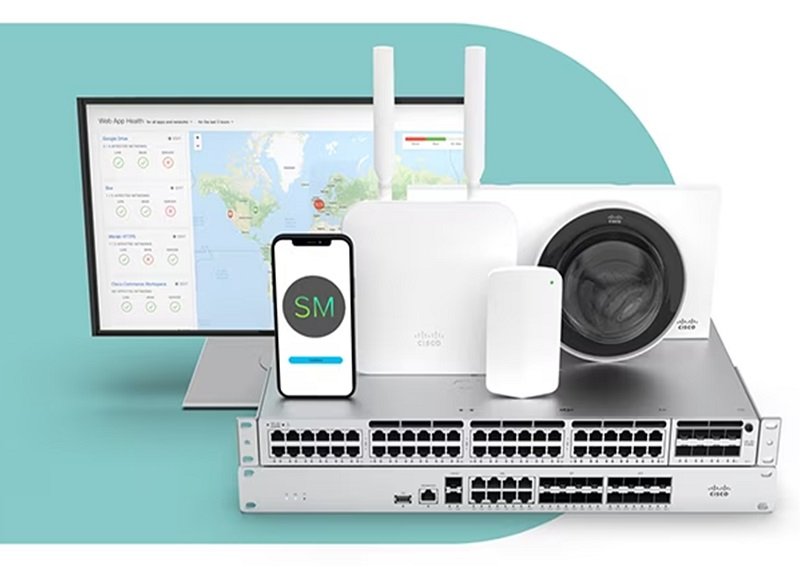 Cisco Meraki is a highly secure cloud solution that allows users to manage Meraki network devices in a single platform. Its cloud architecture creates conveniently deployable and scalable networks that are easy to manage. Cisco's Meraki portfolio is one of their largest growth drivers and certainly has helped them to grip a large share in the SD-WAN market. It allows you to configure security for Internet-connected devices, routers, switches, firewalls and WiFi networks your company uses through an internet-connected browser. It also provides a convenient and efficient way of configuring your organization's entire network.

The reasons which makes it indispensable for any IT business to have are as follows:
1. Easily managed -
Meraki takes the complexity away by moving all the various components of a network to one portal, with a single place to apply applications and group or user policies for all your infrastructure. Using virtual stacking (up to 10,000 ports), projects like rolling out VLANS, updating STP or applying QoS policies becomes a couple of clicks and is applied to the selected devices instantly. Enabling Mesh VPN between sites is now a checkbox, eliminating the cumbersome process of setting up IPSEC tunnels between each device. Roll-out of new sites is plug and play. Meraki allows for configuration in transit, giving the IT team the ability to drop ship equipment and have local hands plug it in. The equipment is then connected to the network, grabs DHCP, connects to the Meraki cloud, receives configurations, and is ready for use.
2. Automatic Updates –
It allows us to install automatic firmware updates. For instance, Schedule your maintenance window for Saturday 3:00 AM and next time there is new software or improvement available for your switch, security appliance or AP it will be installed automatically.

3. Troubleshooting -
Identifying and resolving network issues requires a combination of data collection, analysis, isolation of problems, and a human with an advanced network skill set. Meraki's reporting and troubleshooting tools aim to simplify this process by providing complete visibility into the route paths and physical layout of equipment. The software includes embedded tools to remotely ping, blink LEDs, measure throughput, conduct a trace route, cycling of ports, WOL, cable testing, remote packet captures, a learned MAC address table, and an easily understood ARP table. Meraki's love of analytics and tools to assist in improving performance is rapidly outpacing the industry with the soon to be released Meraki Insights, designed to give customers visibility into performance issues beyond your own network with visibility into ISP and application specific performance.
4. Massive Scalability -
Since it is cloud-based, Cisco lets you scale your operations quickly and easily. You will have access to virtually unlimited resources, and this facilitates on-demand expansion. With the use of Cisco Meraki technology, this combines all your physical networks together with plug n play cloud management platform and east to use Site - to - Site VPN.
5. Outstanding User Experience -
Remember that crisp sound of peeling the plastic off your new devices? Meraki's core team in San Francisco continuously improves all products to deliver the best experience to you and your business.
6. Superior Security -
Meraki's included security tools will be a vast improvement on the current state of security by Managing and applying content filtering across all devices is a dropdown menu, giving you granular control over what is blocked for who and when. Rolling out patches is automated, improving the average of 100 days for patch application to less than 10 hours. Meraki has access to Cisco's robust security tools and is using tools like Snort Source fire for IPS/IDS and Cisco's advanced malware protection (AMP) database for real time review of files for malware.


7. Interconnected management -
Cisco Meraki has built-in analytics and intelligence that enables a Network Manager to have full visibility of Wi-Fi network usage across the business, down to a specific user's browsing activity. The Network Manager is then able to make any restrictions.
8. Simplified Licensing -
Meraki licensing is very simple. For every managed network device (think switch, access point, security appliance) you need a single Meraki Dashboard license so that you can manage the device. The license already has provision for technical support.
Why us?
Ever since its establishment in 2002, our company, Telecraft eSolutions Pvt. Ltd. has been transforming the industry of AV system integration and networking with innovative solutions. Partnering and working closely with some of the biggest names in the IT industry, we have proven ourselves in diverse verticals including FMCG, hospitality, entertainment, and infrastructure. With Cisco's partnership, Webex offers integrated plans on a single bill. Now available in the US and rolling out globally, these plans offer several benefits for the best virtual collaboration experiences.